Lakeland Elementary School
Lakeland Elementary School is the first elementary school to be built in the rapidly growing city of Lakeland, Tennessee. The school is situated at the corner of Seed Tick and Oak Seed Lane. It was completed and opened August 2001, with an enrollment of 650 students in grade K-5. These students came from four feeder schools: Arlington Elementary, Chimneyrock Elementary, Macon-Hall Elementary, and Oak Elementary.
Due to the extraordinary growth phase that Lakeland is experiencing, the school population has grown considerably since opening. LES lost some students due to the rezoning of school attendance boundaries when Bon Lin Elementary and Donelson Elementary opened. The current enrollment is 820 students.
---
Lakeland Middle Preparatory School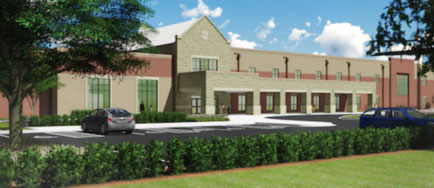 Lakeland Middle Preparatory School is the second school to open in Lakeland, but the first middle school. The newly constructed school sits just off Canada Road between Highway 70 and Old Brownsville. It will begin enriching the minds of children in 5th through 8th grades when it opens in August 2017. It is estimated to have an initial enrollment of 600 students.
The school will offer opportunities for enrichment in a variety of areas. Academically, it will offer enriched classes, along with the opportunity to earn high school electives, or participate in exploratory classes such as STEM. Fine Arts offerings include band, strings, choir, and visual art. For those looking for physical activities, there will be basketball, cheerleading, dance, cross country, volleyball, and football. There will also be many clubs offered so that children can learn about leadership skills, community involvement, and expand their knowledge of particular subject matters.
The Lakeland School System is proud to bring this new school to the community, and LEF is looking forward to assisting in the success of the teachers and students of Lakeland Middle Preparatory School.